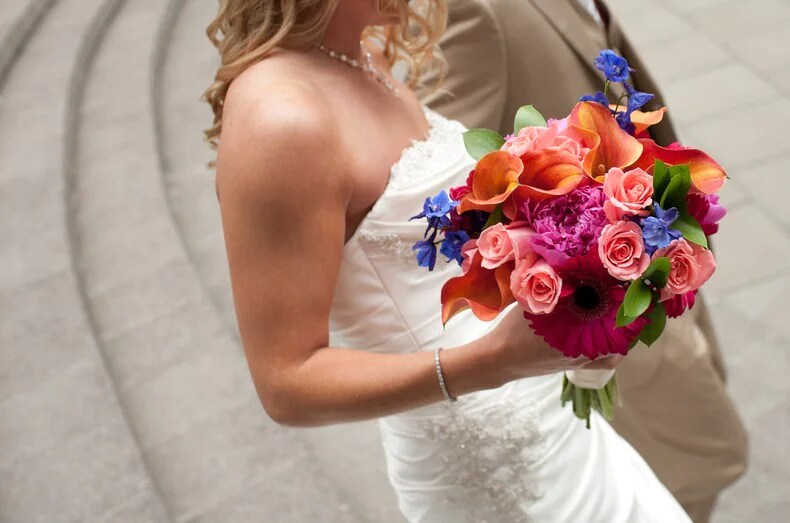 Seasonal Flowers for Your Summer Wedding
June 28, 2022
If you're having a summer wedding, you're definitely choosing a prime time for flowers.
There are so many to choose from, and whether you're going for a refined, modern look or a rustic, wildflower vibe, there are florals in bloom that will perfectly match your aesthetic.
With warm temperatures and nature in bloom, this celebratory season is pretty much the ideal time to say "I do." Once you set a date and venue for your summer affair, that's just the beginning of your wedding planning process. Now you can get into all the fun details that can help you craft and achieve your vision. Whether you're picking out the fashion to wear while walking down the aisle or choosing the florals and table settings that will enhance your reception, there's definitely a few choices you'll need to make to make your dream summer wedding a reality.
Opting for in-season flowers means you'll have a ton of choices for your bouquets and centerpieces.
Standards like roses and carnations are certainly available, but you can also find statement pieces such as dahlias or sunflowers during the summer months. The best part about in-season blooms is that they're easier for your florist to get, so your flowers will be fresher and you'll likely save on your floral budget. "Choosing flowers that are locally in-season is the least expensive way to go," says Laurel White, owner of Adornments Flowers and Finery. "The higher the demand, the more expensive."
Popular June flower blooms:
Roses
Roses are a flower that is known to boost love and romance among people. And it is easily available in the summer season. With a little care and attention, the flowers can keep blooming throughout the season.
Yarrow
Yarrows are one of the best flowering plants for the summer. The plant can easily adapt to all other weather conditions with minimum care requirements.
Bougainvillea
Bougainvillea is an ornamental vine that can cover the entire fence, pavement and other nearby areas of your home. Bougainvillea is a native of Brazil and blooms well in summer climate. It grows rapidly but you need to be aware of its sharp thorns that need to be handled with care.
Sunflower
With the ability to bear extreme summer temperatures, it can easily sprawl along your garden. You need to stop overwatering the plant as it can weaken the support of plant from the soil.
Beardtongue
The semi-cone and partly tube-shaped flower is originally known as beardtongues or snapdragon and fits as a perfect summer flowering plant. They grow in masses but require considerable spacing in order to avoid crowding.
Pansy
They are a perfect summer flowering plant that needs to be grown annually. You can use these pansies in as containers, borders, and ground covers because they have a charming appearance. The lineage of pansies come in three colors – yellow, purple, and white. This bright look would cheer up everyone!
Daylily
The flower comes in a variety of colors and grows well in different types of soil conditions. Daylily can easily grow well in less water and light conditions which keep them blooming throughout the summer.
Purple Coneflower
This daisy-like flower having a height of 4 inches comes in hues of pink and purple that grows well in summer climate. Purple Coneflower blooms in a perennial manner ranging from the mid-summer to autumn season.
Lavender
Lavender is a perfect plant for summer conditions as it loves hot climates. You can grow this flowering plant near your patio or windows to offer a uniquely fragrant and beautiful picture to your home.
With minimum care guidelines, you can grow these refreshing flowering plants in your garden or balcony in this summer season. These flowering plants will improve the air quality and offer a breath-taking view both. So, get ready as it is time to rejuvenate your home in the hot humid climate with a pleasant fragrance all around your home.
Here are some more flower types we recommend for summer weddings:
Foxtail lilies
Poppies
Hydrangeas
Bergamot
Wild blue indigo
Bellflowers
0