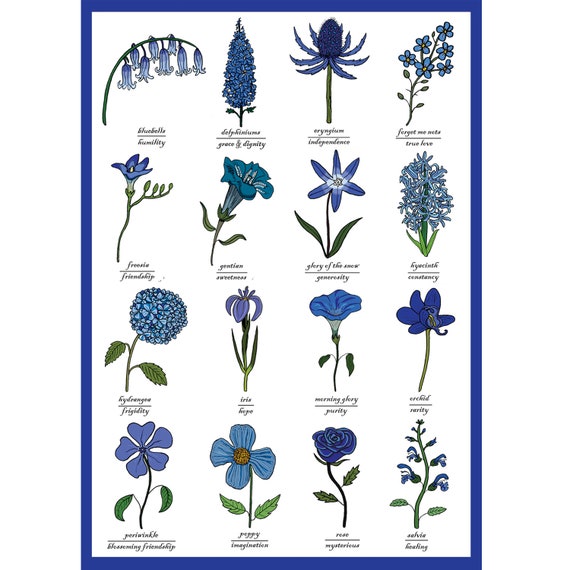 Blue Flowers
June 23, 2022
Blue can be a difficult color to find naturally occurring in flowers. Luckily big blooms like Hydrangea offer light, sky-blue petals and Irises can blossom in classic, royal-blue. Traditionally, an emblem of peace and calm, blue can bring some serenity to your backyard.
Regardless of which growing zone you live in, there is sure to be a flower that will fit your garden's needs. Scroll through to learn more about sun and soil needs as well as a growing tip for each hue of blue.
The pale blue hues calm worries and preoccupation. Blue represents peace, openness, and serenity. Fresh floral arrangements filled with blue flowers offers a cooling antidote to anxiousness.
The soothing blue hues that many flowers possess are said to symbolize tranquility and peace – ultimately, this color is known to spread feelings of relaxation in order to help people release any negative feelings or feelings of stress! Some blue flowers that you may recognize are morning glories, hydrangeas and cornflowers.
Blue Flower Delivery
When you linger long on love street, building a deep and abiding sense of trust and affection, there's no better way to display the emotion than with the gift of blue flowers. With blue flower deliver, and especially same-day delivery options, you can speed your message of enduring love directly to the object of your affection.
##Blue Flower FAQ## When is it appropriate to give blue flowers? Blue flowers are symbolic of attaining the impossible, which makes them the perfect flower to show desire and conquest. If you're determined to win over the one you love, blue flowers say it all. They can also be given to intimate loved ones to show your appreciation of the deep trust you share, a unique and desirable connection coveted by all. Finally, bluish blossoms are symbolic of remembrance, and can be given as condolence & bereavement flowers to commemorate those who are no longer present.
What are the most popular types of blue flowers? Forget-me-nots: The quintessential bluish bloom, forget-me-nots are symbolic of loving memory, as the name implies. The pretty, pastel blue of these tiny clusters of blossoms is a gentle reminder of love, and those who receive forget-me-nots know that their loved ones are thinking of them.
Hydrangeas: The clustered blossoms of blue hydrangeas look like nothing so much as a ball of butterflies about to take flight. The azure hue of these beautiful blooms is not only strikingly lovely to behold, but it can also convey your sentiments of wonder at the true love you have found. Delphinium Delphiniums deliver some of the most stunning blue shades to be found in nature, with hues ranging from royal, cobalt, and sapphire shades to paler cerulean and sky blues. The ruffled, ridged petals are extraordinarily eye-catching, and these fun and funky flowers are a perfect way to show your ardent attraction.
##Bushes, Shrubs & Plants with Blue Flowers## Blue Rosemary Plant: This fragrant, woody-stemmed plant may be best known for its aromatic needles, which are equally valued for their scent and flavor. However, the plant also intermittently features elongated blooms in a blue-violet hue. Believe it or not, you can eat the blue flowers as well as the needles, and they may be added to dishes as a garnish to incorporate the intense essence of rosemary.
Indigo Bush: Although it is called the indigo bush, this flowering plant is actually a shrub. The dark blue shades of the flowers are what give this plant its name, and they have famously been used to create textile dyes of the same color. Blue False Indigo is a native plant that grows wild throughout the prairie lands of the Midwest.
Blue Hyssop: This bloom is not native to America - it came with European colonists hundreds of years ago. Rounded blue hyssop bushes are an excellent addition to any garden as the fragrant leaves, which range from sweet, to minty, to pungent are not only attractive to birds and bees, but can also be used as an herbal additive in cooking and liqueurs. Recipients will enjoy the shockingly azure to violet blooms.
##The Meaning of Blue Flowers## In Feng Shui, blue is a color that symbolized peace and tranquility. Blue flowers can be a symbol of serenity, but they are also thought to have a meaning of mystery, intrigue, and the unattainable. In addition, they could be used to convey trust and intimacy.
Truly blue roses do not occur naturally, which makes them a unique gift, symbolic of not only love, but of a seemingly impossible dream. If the one you love seems beyond your reach, blue roses will make your devotion clear. Blue flowers, in general, will show your great esteem for another, or feelings of deep trust and intimacy.